Rowed, sailed and windsurfed – relay baton crosses Channel
Original post: Another World Adventures
Featured
On Sunday 9 October, logistics and emotions were taken to a new level for the organisers of the Running Out of Time relay as the baton made an adventurous fossil-fuel-free journey carried by rowers, sailors and a windsurfer across the world's busiest shipping lane, the Dover Strait, from England to France. 
Another World Adventures is an expertise partner for this amazing inititaive and we are very proud for our role in the Channel crossing to France!! Over the years we've helped many adventure seekers and climate activists fulfill their dreams and plans to travel in a low impact way including sailing across oceans to major UN climate conferences. When we first got involved in the Running Out of Time relay it was with the water logistics in mind for a journey to carry a baton over 7,767km through 18 countries to COP27…! Since then our role has grown, but read on for one of our most exciting moments so far!
The baton left the shores of England after a 10 day 1,676km journey through Scotland, Wales and England carried by runners and cyclists
"This was one of the most challenging moments of the relay because it involved so many fast moving parts in a completely uncontrollable environment! Knowing that we only had one shot to get it right really ramped up the pressure – but in an amazing display of grit, hard-work, togetherness, we did it!"  says Hetty Key, Operations Director, Running Out of Time relay.
Folkestone Rowing Club took up the challenge of getting the baton from the shore to an at-sea handover with Vendée Globe sailor Conrad Colman.
Rowed by Maddie Plested, with operational support from Zoe Mond and Lesley Woodsford, Maddie defied the wind and waves to reach Conrad and his crew – Pam Lee and Natasha González – onboard ocean racing sailboat IMAGINE, his boat for the upcoming solo ocean race Route du Rhum (Nov 6th).
"At one point the waves started engulfing my boat so I started bailing out with my hands, but that wasn't enough so I started bailing out with my shoe … I got the baton into the bag, threw it out, rowed away as quickly as possible, the sailboat picked it up and went on their way! "  said rower Maddie Plested.
Picture credit @natasha_multimedia
The baton crossed the world's busiest shipping lane, the Dover Strait, under sail on board IMAGINE. The shipping industry is responsible for at least 2.5% of the world's total CO2 emissions so it made for an evocative symbol to use maritime transport via sails and human power.
"It's a little bit crazy – I love that about my part of this adventure and the Running Out of Time relay …  I believe really strongly in international cooperation and I think it's so important to follow through on all the commitments made in the last Conference of Parties – this relay helps to draw a line between COP26 and COP27 and it's only when you build from one year to the next you really see progress" says skipper Conrad Colman who, in 2017, was the first to complete a Vendée Globe without fossil fuels.
Once across the strait, the crew had an at-sea rendezvous with elite competitive windsurfer Charline Lemaitre, 14, from Bateau Ecole, who collected the baton in its waterproof bag from the sailboat and surfed it to Calais, France where it will continue on it's journey to COP27.
Running Out of Time is a record-breaking 7,767km journey through 18 countries to the United Nations Climate Change Conference, COP27 in order to deliver a climate message from young people to world leaders. The 38 day mass-participation relay mission from Glasgow to Sharm-El-Sheikh is the longest non-stop relay ever attempted.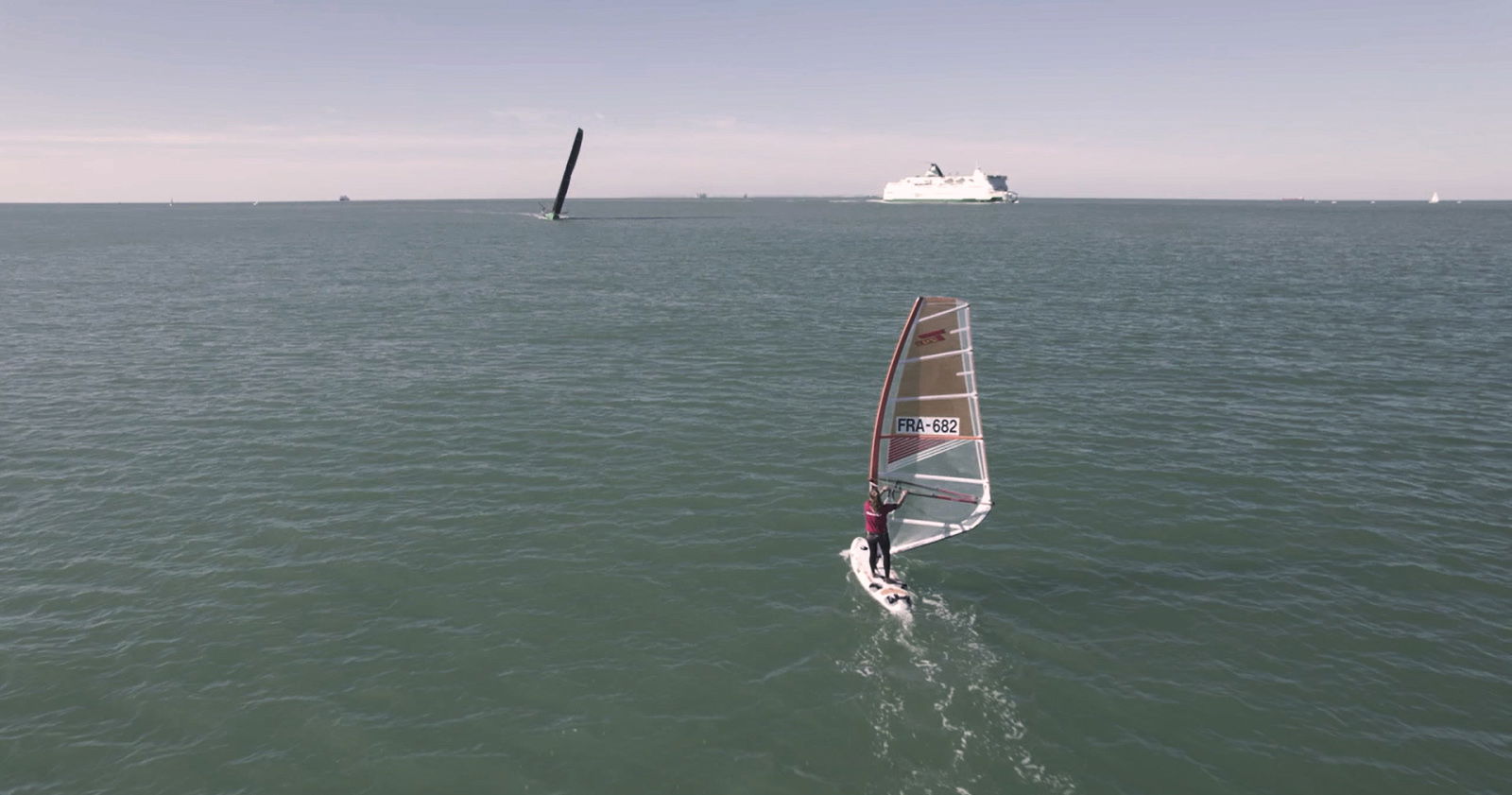 The route includes Scotland, Wales, England, France, Belgium, Netherlands, Germany, Austria, Italy, Slovenia, Croatia, Bosnia and Herzegovina, Montenegro, Albania, Greece, Cyprus, Israel and Egypt – arriving to Sharm el-Sheikh on November 5th 2022 in time for COP27 which will take place from 6th-18th November 2022.
See the whole route here.
Runners and cyclists carry the baton in 5-10km stages of the route which crosses seas, mountain ranges, glaciers, and deserts, villages, towns and capital cities. It will visit hundreds of schools, at-risk locations and climate change projects to inspire and champion local climate action. At the same time, runners will be fundraising for the Foundation for Environmental Education and Carbon Copy.
People around the world who are unable to run a stage on the physical route won't miss out. They're invited to pass the baton during a Global Virtual Relay on November 5th 2022.
Running Out of Time is organised by The World Relay ltd and made possible thanks to the collaborative effort of a great many partners and supporters.
Register to take part: www.running-out-of-time.com
Hi I'm Larissa, Founder of Another World Adventures. Welcome! If you're planning an adventure you're in the right place. Get ready to discover epic travel inspo and a collection of hand-picked trips from my trusted network of experienced adventure experts. Think unusual destinations, expeditions, slow, solo and sustainable travel and epic journeys on land and at sea! Ever got a question? Just get in touch, I answer every enquiry myself. Enjoy!
Explore our trips
Get our best stuff sent straight to you!